NYHETSBLOGG - DATUM: 2017-10-09
Lilja i New York
Den 26 september var Lilja i New York för att närvara vid Stephen och Owen Kings premiär av deras promotion turné för "Sleeping Beauties". Det blev en fantastisk dag och vill ni läsa mer om det kan ni göra det här.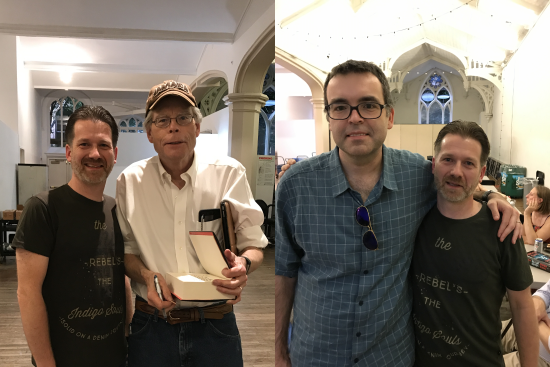 Är det en ny Dark Tower-historia på gång?
Ja det verkar faktiskt som om det kommer komma en ny The Dark Tower-historia. Om det är en bok eller något kortare är dock oklart. Det var på sista stoppen av Sleeping Beauties-turnen som King fick frågan om det skulle komma någon mer Dark Tower-historia varpå han svarade "Yes, I think that might happen."

Visserligen säger han att det kanske kommer en ny historia, men King är så pass rutinerad att han inte skulle ge fansen minsta lilla hopp om han inte var tämligen säker på att det faktiskt var något nytt på gång…


En första teaser för Castle Rock
En första teaser för TV-serien Castle Rock släpptes under söndagen på New York Comic Con. Den avslöjar inte så värst mycket om vad serien kommer att handla om dock. Serien får premiär i USA på Hulu under 2018.