NYHETSBLOGG
Hittade King på Sleeping Beauties redan 1988?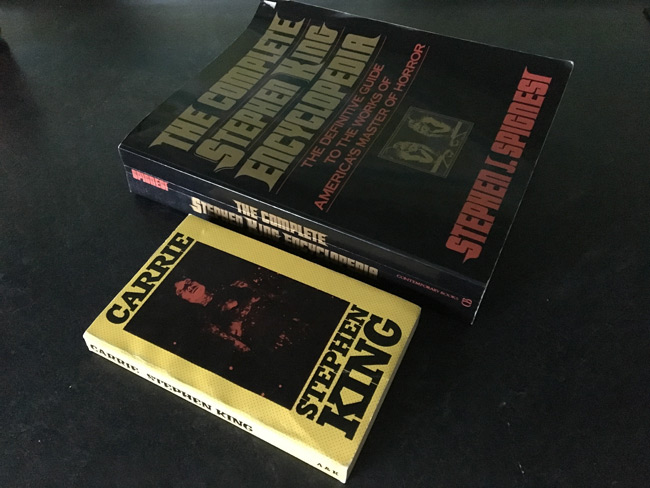 I fredags sa det bokstavligen "duns" i min brevlåda när posten dumpade ett rejält paket i den. Helt från ingenstans och utan förvarning skickade en kompis ett exemplar av Stephen J. Spignesis "The Complete Stephen King Encyclopedia" som han hade hittat under en resa i Kanada för "en spottstyver" och tyckte att den passade bättre hemma hos mig.

Jag tackade ödmjukast då denna gigantiska bok, ungefär som en klassisk svensk telefonkatalog (en fullt normal pocket ligger bredvid som jämförelse på bilden), är en riktig klassiker inom King-referenslitteraturvärlden. Jag har några andra titlar av Spignesi men denna har jag inte haft sedan tidigare och det är en välfylld bok som bara har ett enda fel: den tar slut 1991, blott 17 år in i Kings bokkarriär. Men det är inget att göra åt det.

När jag bläddrade som hastigast i boken fastnade jag för ett kapitel som handlade om historier King hittat på men inte skrivit ned än, det vill säga idéer och plottar som han nämnt i intervjuer. Det verkade intressant eftersom det ju faktiskt kunde finnas noveller eller böcker som han skrivit efter 1991 bland dessa ideér. Även om jag inte hittade något konkret fanns det faktiskt något i en intervju sedan 1988 som med lite god vilja skulle kunna vara ursprunget till höstens roman Sleeping Beauties som King skrivit ihop med sin son Owen.

Det här vet vi om den boken hittills: "What would happen if all the women abandoned the world?" I en intervju från 31 januari 1988 berättade King om två idéer. Den ena handlade om barn som försvann i ett köpcentrum och den andra beskrevs så här: "Or how about this: Husband and wife are at the airport to board a plane. The woman has to go to the ladies' room, so the man waits outside for her. And waits. She never comes out. Pretty soon he notices that other women are going in, but not coming out. Boyfriends and husbands accumulate outside the bathroom, all feeling uneasy but reluctant to talk to each other. Eventually they alert airport security, then the governor and ultimately the president in an effort to deal with the mystery."

Nog låter det som samma idé i grund och botten? Vi får se i oktober om den där sekvensen på flygplatsen är med i boken...