NYHETSBLOGG - KATEGORI:
the outsider
3x nytt av King i bokhandeln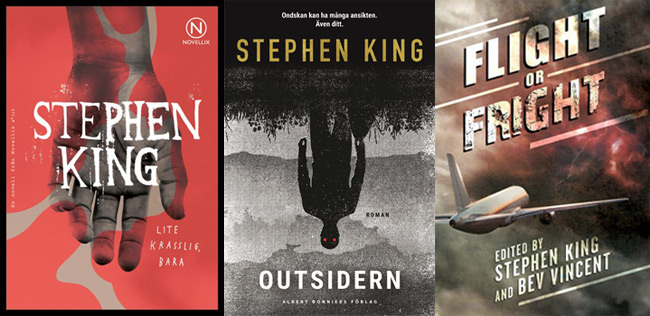 Just nu finns det inte mindre än tre nya böcker med King i bokhandeln. Lite krasslig, bara är det lite oväntade släppet, en liten, liten novellbok med den första översättningen av "Under the weather" som finns med i den hittills oöversatta novellsamlingen The Bazaar of Bad Dreams.

Vidare har Outsidern släppts precis i dagarna, en bok vi kallade "Kings bästa roman på länge" när vi recenserade den amerikanska boken i början av sommaren.

Sist ut är antologin Flight or Fright där King agerat redaktör tillsammans med Bev Vincent, men han har även bidragit med novellen "The Turbulence Expert". Temat för hela boken är skräck med flygtema och utöver King rymmer boken noveller av Joe Hill, Dan Simmons, Roald Dahl, Richard Matheson med flera.

Vi kommer inom kort att recensera både Lite krasslig, bara och "The Turbulence Expert", samt lite annat Kingrelaterat som ramlat in i våra händer.