NYHETSBLOGG
Statistik: Alla dessa uppföljare
Efter att ha tittat på svenska biopremiärer och nyfilmatiseringar landar vi nu i uppföljningsträsket. Detta träsk är kladdigt och b-doftande och nästan helt uteslutande fristående från relevanta kopplingar till Kings original. Dessutom är få av originalfilmerna inte överdrivet bra heller. Så här ser det ut grafiskt: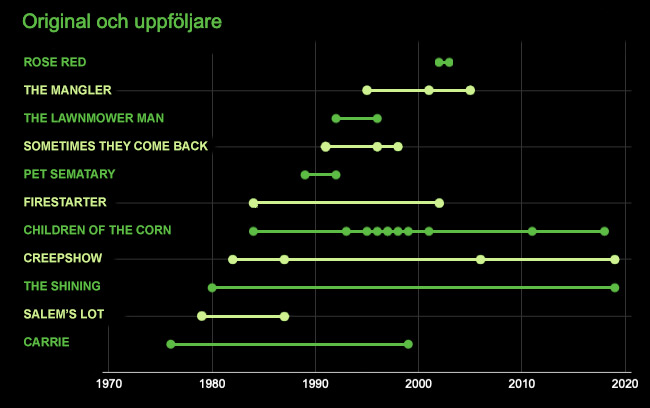 Det enda solklara undantaget från relevansbristen är kopplingen mellan The Shining och bioaktuella Doctor Sleep. Även Rose Red/The Diary of Ellen Rimbauer får väl ses som till hälften relevant. Creepshow är en liten kategori för sig själv i och med att det är en serie av episodfilmer och numera en färsk tv-serie där samtliga inslag i alla fall delar samma namn, men inte mycket mer. Det är alltså tveksamt om Creepshow ens borde vara med, men vi låter den vara det i alla fall.

Här är en lite mer detaljerad lista:

1. Carrie
1976, regi: Brian DePalma
The Rage: Carrie 2, 1999, regi: Katt Shea

2. Salem's Lot
1979, regi: Tobe Hooper
A Return to Salem's Lot, 1987, iregi: Larry Cohen

3. The Shining
1980, regi: Stanley Kubrick
Doctor Sleep, 2019, regi: Mike Flanagan

4. Creepshow
1982, regi: George A. Romero
Creepshow 2, 1987, regi: Michael Gornick
Creepshow III, 2006, regi: Ana Clavell, James Glenn Dudelson
Creepshow, 2019, tv-serie

5. Children of the Corn
1984, regi: Fritz Kiersch
Children of the Corn II: The Final Sacrifice, 1992, regi: David F. Price
Children of the Corn III: Urban Harvest, 1995, regi: James D.R. Hickox
Children of the Corn: The Gathering, 1996, regi: Greg Spence
Children of the Corn V: Fields of Terror, 1998, regi: Ethan Wiley
Children of The Corn 666: Isaac's Return, 1999, regi: Kari Skogland
Children of the Corn: Revelation, 2001, regi: Guy Magar
Children of the Corn: Genesis, 2011, regi: Joel Soisson
Children of the Corn: Runaway, 2018, regi: John Gulager

6. Firestarter
1984, regi: Mark Lester
Firestarter 2: Rekindled, 2002, regi: Robert Iscove

7. Pet Sematary
1989, regi: Mary Lambert
Pet Sematary 2, 1992, regi: Mary Lambert

8. Sometimes They Come Back
1991, regi: Tom McLoughlin
Sometimes They Come Back… Again, 1996, regi: Adam Grossman
Sometimes They Come Back... For More, 1999, regi: Dan Berkfile

9. The Lawnmower Man
1992, regi: Brett Leonard
Lawnmower Man 2: Beyond Cyberspace, 1996, regi: Farhad Mann

10. The Mangler
1995, regi: Tobe Hoper
The Mangler 2, 2001, regi: Michael Hamilton-Wright
The Mangler Reborn, 2005, regi: Matt Cunningham & Erik Gardner

11. Rose Red
2002, regi: Craig R. Baxley
The Diary of Ellen Rimbauer, 2003, regi: Craig R. Baxley

Vad finns det för intressant att plocka ut ur denna data?

Tja, tre av de mest uppföljningstäta titlarna och fyra totalt har sitt ursprung som noveller i Night Shift/Dödsbädden. Novellerna i den samlingen var ganska "skräckiga" vilket förklarar varför de filmats (triviabetonad parentes - hittills har sex noveller från Night Shift blivit långfilmer och ytterligare ett flertal filmats som officiella kortfilmer, att jämföra med nästkommande samling, Skeleton Crew/Den förskräckliga apan, som enbart resulterat i en långfilm och några kortfilmer).

Man kan även konstatera att 90-talet var det stora uppföljningsårtiondet med totalt elva titlar, vilket är nästan hälften av alla som gjorts enligt den här genomgången. Detta kan härledas till VHS- sedan DVD-marknaden som var första anhalt för många filmer i stället för bio och tv.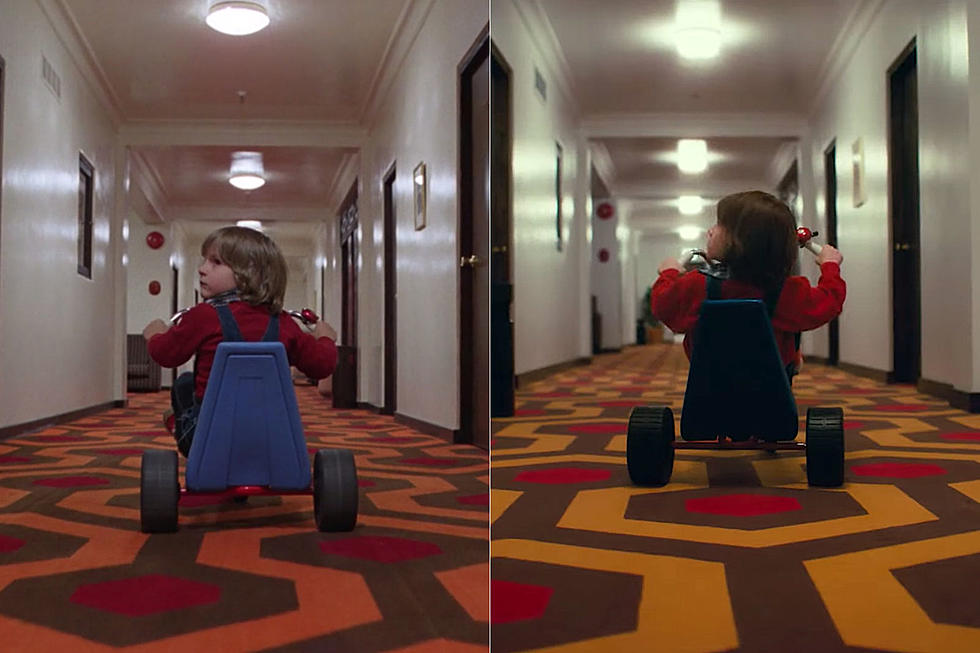 Slutligen kan man konstatera att uppföljningstrenden varit ganska svag under de senaste 10-15 åren. Det är några onödiga Children of the Corn-filmer som trillat ut, och så Doctor Sleep förstås. Med det är ju en bra film!

Dessutom kan man genom att titta framåt glatt konstatera att inga kända uppföljare finns i dagsläget, med undantag för tv-serien baserad på The Dark Tower som ställer sig stolt bredvid de relevanta exemplen. Och det är tydligen så att rättigheterna för Children of the Corn har gått tillbaka till King så utöver de totalt elva (!) filmer som finns (en nyinspelning och en kortfilm medräknat) blir det inga fler. Förhoppningsvis.